Geotextile underpad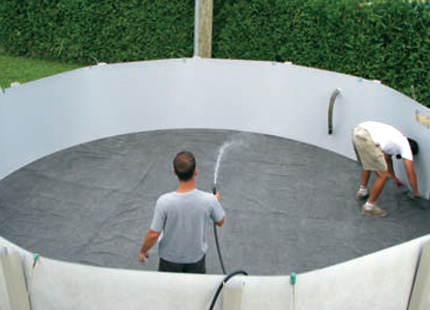 All of our products are only available at your pool retail stores.
Dimensions
Cut according to standard pool sizes of the industry.
Description
Under pad protecting the pool liner against base imperfections for on ground swimming pool.
Characteristics
Made of needle punch fibre not woven, according to the best standards of the industry, having a strong puncture resistance.
Fabrication method
Sewn assembly so that the sewing disappears during the installation. Under pads are cut according to the standard sizes of on ground swimming pool, round or oval.
Advantages
Insure a protection between the pool liner and the rough base.
Promotes a longer pool liner life.
Eliminate worms and ants trails.
Light weight and easy to install.
Benefits
Protect the pool liner from small rocks puncture.
Less repairs and maintenance.
Insure a comfortable and long-lasting bottom.
Require a small storing space. Shipped in a plastic bag with UPC code.
Save pool installation time and material, no sand, dust gravel rock only.